If you're new here you should know this blog contains frank and explicit discussion of sex, sexuality, queerness, gender, BDSM, polyamory/non-monogamy, and whatever else strikes my fancy. Based on this you may or may not want to subscribe to my to subscribe to my RSS feed. Thanks for visiting!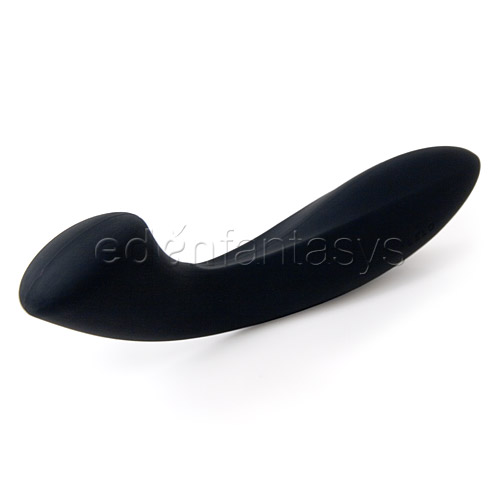 If this already hasn't become apparent to you, then you probably have not read my other reviews of Lelo products because I rave about them every time I have the honor of reviewing one. This time it is no different. Although the first time I tried out the Ella I actually didn't enjoy it, but that was because I was in a strange sexual headspace and not really enjoying anything at the time. It was obviously all in my head because the second and all further times playing with Ella I was in love.
Like all Lelo toys she comes in a gorgeous black box with a satin pouch, manual, and (one year) warranty information. Although unlike Iris and Nea (and most other Lelo toys) Ella is a dildo, so there's nothing to plug in or charge up, Ella is ready to go immediately. She is made 100% out of silicone, is extremely sleek and classy, and comes in either black or white from EdenFantasys (I got the black).
Ella is currently the only dildo in the Lelo line, and is a double-ended dildo to boot. Her two ends look a bit like the Gigi and the Liv put end-to-end. I'm a bit of a size queen, though I appreciate small toys as well if they are well made, and Ella is a little smaller around than I thought she would be. She is only just over one inch in diameter (1 1/4″), but regardless I found them to be absolutely fantastic for g-spot stimulation, especially the end that is curved with the flat head (Gigi-like).
I tried Ella a few different ways: thrusting inside of me, working inside of me, and with a vibe on my clit. Of course (clit whore as I am) I got off with a vibe on my clit, I used both the Hitachi and Nea and enjoyed each combination. The femme accessorizer in me enjoyed having the black Ella and black Nea working together (though I would have loved a black Lily instead, because the finish matches the Ella better than the Nea's finish, but that's just my OCD talking). Thrusting with both ends was highly pleasurable and Ella seemed larger when she was inside of me, I'm not sure why. Working it inside of me was pleasurable as well (by "working" I mean very slight thrusting, basically). Both ends make a wonderful handle for the other so the toy is extremely easy to maneuver.
Like all Lelo toys Ella was just absolutely fantastic, and looks more like a work of art than a dildo ("pleasure object" as Lelo calls all of their items). It is sleek, fem(me)inine, elegant, and gorgeous. I am constantly amazed with the pleasure objects Lelo produces and I can't wait to get my hands on more of their toys! I'm especially lusting over their newest toy Bo, which I just discovered today, though I could list all of the toys that I don't have as ones that I want.