Tag-Archive for » massager attachments «
VibeReview has announced their support of Obama and part of their support is to give to all you Obama supporters The Obama for President Coupon which will give you a whole 10% off of your next order with them and is useful up through election day! So, if you are planning on buying anything from VibeReview be sure to click-through to their site through The Obama for President Coupon so that you can get 10% off!
Last week I reviewed the Miracle Massager, and I was definitely pleased with it (not as strong as the Hitachi Magic Wand but still yummy vibration-wise and superior in other areas). So, this week it's my turn to review the Miracle Massager Attachment, which is made out of clear PVC. I would like it a lot better if it was made out of silicone, as PVC and, specifically jelly as is the sub-category of PVC which this toy is made of, is extremely porous so it should not be shared.
Now, I've read a few reviews of the attachment, including people saying that they love the Miracle Massager even more with it, and I wish I could give it a good review. Unfortunately, my problem with the Massager Attachment is one of anatomy.
Let's back up a little, however, so you can have more information about the attachment before I go into my issue with it. I found it gorgeous, I love see-through toys (glass or otherwise), and the shape is appealing as well. It has a nice ridged end, perfect for g-spot stimulation, as well as a platform extending out of that with lots of little "love nubs" which is just fantastic for clitoral stimulation.
As one can assume, the attachment is made so that one can have that dual-action feeling, a nice g-spot vibration as well as a stimulating clitoral massage. Unfortunately, as can be the problem with a lot of dual-action toys, when I inserted the toy the nubby platform did not line up with my clit! I had to move the toy around and maneuver it just right so that it hit my clitoris, but when I did that, it pulled out of my vagina almost all the way.
Like I said, this is an issue of anatomy, specifically my anatomy, and there are others who find this toy to be perfect and to line up just right. The nice thing is that this attachment is fairly inexpensive, so if you already have the Miracle Massager and want to try this toy out, I would still highly recommend it. It may line up perfectly, but even if it doesn't you won't have spent a whole lot of money on it.
However, even if your anatomy is like mine this toy doesn't have to be a complete waste! While, yes, I was unable to have both clitoral and g-spot stimulation happening at once I was still able to achieve orgasm with the nubs on my clit and the first inch or so of the shaft inside of me. I was still getting combined vaginal and clitoral stimulation, and since the first three inches or so of the vaginal walls are, they say, the most sensitive, it wasn't a complete loss.
Also, if you happen to have something like the silver bullet lying around (review two weeks from today) you can make the toy work for you by using the Miracle Massager Attachment for it's g-spot capabilities, letting the nubs rub the vulva and urethra area (the vulval vestibule), and then using the glorious silver bullet for direct (or indirect, if that's your desire) clitoral stimulation. I found that to work quite well as well!
Personally, I would much prefer using the Miracle Massager as a direct clitoral stimulator accompanied by my Vicky Venus (read my review here), or (if I'm wanting that g-spot stimulation) a g-spot toy like the Stubby G, Gigi or Iris (none of which I own, but I aspire to!).
Psst… don't forget about The Obama for President Coupon!
Technorati Tags: adult product reviews, clitoral vibrators, massager attachments, VibeReview, vibrators
Possibly related posts: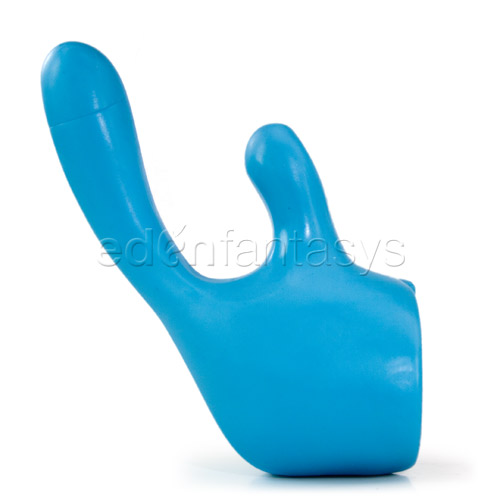 My second verified review for Eden Fantasys went up this morning, on the G-Plus Massager Attachment.
This massager attachment fits on spring-ball type massagers such as the Hitachi or Ideal and is shaped much like the Rock Chick, G-Rock or other vibrators which hit both the g-spot and clitoris. It is made of TPR (Thermo Plastic Rubber) which while it is phthalate-free, it is also porous and since this toy would be difficult to be used with a condom, it should not be shared.
The TPR material does add to the toy, however, it makes it very bendable. This can make it difficult to insert without lube, but with lube it makes it wonderful for moving the little 2″ nub onto the clitoris while the 4″ insertable length works inside.
Master and I had a wonderful time playing with this toy and using it on me until the sheet beneath me was covered in sweat! I can't stress enough how much I love the Hitachi, or how much I think this attachment makes the Hitachi that much better. Read the complete review on EdenFantasys here!

Technorati Tags: adult product reviews, EdenFantasys, hitachi, massager attachments, vibrators
Possibly related posts: