If you are under the age of 18 please click here to leave.

If you are 18+ you should know this blog contains frank and explicit discussion of sex, sexuality, queerness, gender, BDSM, polyamory/non-monogamy, and whatever else strikes my fancy.

Based on this information or my blog in general you may or may not want to subscribe to my RSS feed. Thanks for visiting!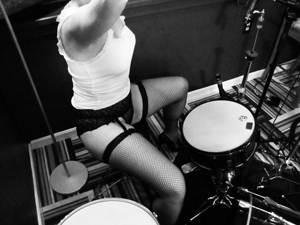 HNT Courtesy of Babe Lincoln
Welcome to e[lust] - The 10th edition! Your source for sexual intelligence and inspirations of lust from the smartest & sexiest bloggers! Whether you're looking for hot steamy smut, thought-provoking opinions or expert information, you're going to find it here. Want to be included in e[lust] #11? Start with the rules, check out the schedule in the site's sidebar and subscribe to the RSS feed for updates!
~ This Week's Top Three Posts ~
Negotiation – Not Nearly As Awkward As Having a Breakdown in Public – All the worries about getting to know a new person ("Am I dressed ok? Are they gonna like my stories about my grandma?") get exaggerated when you're talking about sex and desire…

Dollar Store Domme – He definitely can't elude the dollops of toothpaste I dab onto his nipples. It takes a delicious second before he feels the cool burn penetrate his flesh. By that time I'm already up and selecting a plastic spatula from the credenza.
The Best of Both Worlds or Lost in Limbo? – Whether intentional or unthinking, bisexual denial is a frustrating thing for bisexual, pansexual or 'fluid' people to have to deal with.

~ e[lust] Editress ~
Navigating Genderqueer in Suburbia – But pray tell how do the rest of us navigate it? How the hell am I supposed to know if you identify as male or just like dressing like one?
~ Featured Post (Lilly's Pick) ~
The Daddy Issue: Sexualizing Abuse – I needed to walk through this fear, and turn it into pleasure. I needed to prove to myself that he hadn't broken me. That he hadn't changed who I was to become. That I was not affected by what he did. That he didn't abuse me.

See also: Pleasurists #69 and #70 for all your sex toy review needs.

Erotic Writing
15 minute phone sex
…And Orgasms On Demand
A Neighbor In Need #7
Afternoon Delight!
Casino
Desperation & Dominance
Dreams
Evening Home, Part 3
First Asleep Loses
Happy ending
I Got….
I am a keeper of secrets
I Got Fucked
I am Coming for You: A Letter to Scin
Late Night Satisfaction
Lolita's Mother
Making M Squirt
Sir ~ intro
The Hatter
The Flash Fiction Friday FAQ!
Trussed
We fucked, they applauded
Where there is a libido, there is a way
Wicked Wednesday: Idyll
Thoughts & Advice on Sex & Relationships
20 Reasons Why Sex Is Good
Defining Sex
Hurt me, Pet
I Was Raped
Playing Dumb
Red Flags of an Abusive Partner, Part 2
Restrictions and Satisfaction
Someone Else's Shoes
Sex Isn't Everything
The Art of Sensual Touching-Caressing for You and Your Partner
The STI You Haven't Heard of: Molluscum contagiosum
The Suit
Vibrant Woman or Live Masturbation Sleeve
What I Don't Need
Kink & Fetish
A Little Girl's Need for Submission
Are You Done Yet?
A Reformatory Punishment
BDSM Advice Series: Floggers
Bruises
Determined to bind
His Slut
I Really Wasn't In The Mood
Impact
Pain and Healing
Questions From DH About These Things We Do
Surrender
Sub Drop: Fact or Fiction?
Tiiu Ashcraft – Fetish Artist and Beauty
The Eroticism of Tattoos
The Competition
Wanting to want
Sex News, Interviews, Politics & Humor
A History of Violence
Asshat of the Day Award
Awesome Mentoring Work and Upcoming Apprenticeship